Flood Maps & Flood Insurance


Reps. Keating and Tierney lead delegation demand to correct flood maps based on new evidence: Town of Rockport appeal includes additional scientific proof that the new flood maps are incorrect; FEMA agreed
> Read more

Susan Moran, President of the West Falmouth Village Association, speaks with Representative Keating's office regarding West Falmouth Flood map concerns. Residents are encouraged to write Representative Keating to support his efforts to challenge the science of the current flood maps.



Update: Senate Clears Flood Insurance Bill for Vote
By Arthur D. Postal, PropertyCasualty360.com | January 28, 2014
Editor's note: Arthur D. Postal writes a weekly column for PC360 on insurance-related developments in Washington. Prevoiusly, he was National Underwriter's Washington Bureau chief. Opinions expressed are the author's own.

On Monday night, the Senate cleared for floor action legislation that could delay implementation of most flood insurance premium rate hikes for customers of the National Flood Insurance Program (NFIP) imposed by a 2012 bill for as many as four years.

The Senate brought the bill to the floor through rarely used emergency procedures by an overwhelming 86-13 vote. Floor action could begin as early as Wednesday, industry officials said.

The legislation has prompted animated responses from both supporters and opponents. But, an industry lobbyist cautioned that "this was a very strong vote" to clear the bill for floor action under accelerated procedures that required the support of every member of the Senate. "It would seem certain that they have the votes to go all the way with this one," the lobbyist said.

Given the strong vote on the motion to proceed, opponents of the legislation said they hope the House will significantly modify the legislation so that it imposes caps on annual increases. > Read more

Flood Map Presentation
January 2014
The West Falmouth Village Association and Falmouth Housing Trust co-sponsored a flood insurance presentation, including West Falmouth Flood Maps, by Town officials at West Falmouth Library on January 13, 2013. A representative panel comprised of Town of Falmouth's Building Department & GIS Department, as well as representatives from a local lender and insurance agency gave a presentation, followed by a question & answer period.
View the Presentation:
On FCTV
The show will be cablecast on FCTV Channel 13 at the following times:

Friday, 1/17/14 at 7:07PM
Saturday, 1/18/14 at 8:30 PM
Monday, 1/20/14 at 2:20 PM
Tuesday, 1/21/14 at 4 PM
Friday, 1/24/14 at 7:07 PM

On YouTube

View additional information:
Maps
Interactive town map

Falmouth Flood Zones

PDFs
Changes in Flood Insurance Requirements That Could Affect You

FEMA Flood Zone Changes and Implementation of The Biggert-Waters Act Mortgage Lender Compliance and Property Owner Requirements

FEMA - Impact of National Flood Insurance Program Changes




Select a newsletter below to download
it in PDF file format.
WFVA Projects

Read more about the projects sponsored by the West Falmouth Village Association.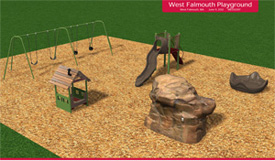 For local emergencies
Dial 911 or 508-548-2323 (This # goes directly to Falmouth Fire dispatch)
View Safety Tips from the Falmouth Police Department >