---
Annual Meeting

Tuesday, July 17 at 7 p.m.
West Falmouth Library
Come to hear issues affecting West Falmouth.
• CLOC Directors, E. Mark Murphy and Mark A. Pearson, will describe the proposed new building for the College Light Opera Company Campus
• Selectman Susan Moran will give Town updates
• Ted Rowan will speak on Bikeway issues
Come and share your Village concerns. Light Refreshments at 6:30 p.m.


---
'Restoration Of West Falmouth Harbor' Event Leaves Residents With Hope, Challenges

By Claudia Geib, The Falmouth Enterprise
"...In the mid-1990s, scientists began seeing nitrogen levels spike in waters around West Falmouth—and with it, increased algae growth, along with sharply declining shellfish health, eelgrass coverage, and water quality. To this day, groundwater sampled around West Falmouth Harbor still has very high nitrogen levels."

Read the full article >


---
2018 WEST FALMOUTH ANNUAL
SPRING CLEAN UP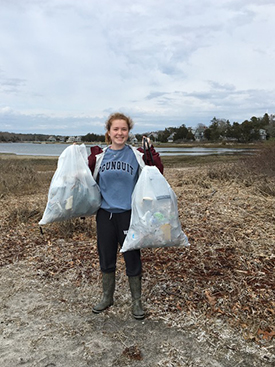 To everyone who participated in the 2018 litter clean up in West Falmouth - THANK YOU. We were fortunate to have 6 new volunteers this year which increased our total number to over 50. Miles of roadsides were cleared of many types of litter. The most prevalent item picked up this season was NIPS - hundreds of them - thrown out of cars.

Here's some of the roadsides and areas where dedicated volunteers removed litter within the last two weeks - an amazing accomplishment.

1. West Falmouth Hwy. starting at Thomas Landers Rd. to Palmer Ave.
2. Nashawena Rd./Quaker Rd. from Old Dock Rd. to Old Silver Beach
3. Chapoquoit Rd. and island
4. Palmer Ave. from West Falmouth Hwy. to Sippewissett Rd.
5. Thomas Landers Rd./Route 28 intersection (2 exit ramps and 2 entrance ramps)
6. Brick Kiln Rd. from 28A to the bridges (Route 28 intersection)
7. Old Dock Rd.
8. Brick Kiln Rd./Gifford St. intersection
9. Blacksmith Shop Rd. and Swift Park
10. Salt Pond Bird Sanctuary land bordering Chapoquoit Rd.
11. West Falmouth Harbor shoreline at low tide
12. Little Island beach

Again, we are so grateful for everyone's willingness to be part of our West Falmouth.

TEAM. TOGETHER EVERYONE ACHIEVES MORE.
Milt and Sue Williamson Coordinators


---
BAY HEALTH, West Falmouth Harbor

See how healthy your water is by visiting Buzzards Bay Coalition's website.
Read more >
---
Read the status report about nitrogen-reducing
in the West Falmouth Harbor.
---
Falmouth's Live Survey
The Falmouth Board of Selectmen hosted a first-of-its-kind Live Survey at the Falmouth High School Auditorium on Saturday, February 3rd. The intent of this event was to solicit input about how community members feel about our town, to generate ideas for strategic planning, and to encourage citizen action to make Falmouth an even better place to live and work. An executive summary of the ideas generated at this event along with a transcript are now available on the Town website.

View live survey results
View executive summary


---
West Falmouth Library Survey
Please help the WF Library gather data for a grant application.

Take the short survey >


---
West Falmouth Harbor Restoration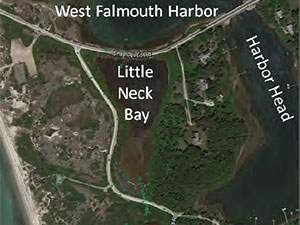 West Falmouth Harbor Restoration Feasibility Study
Prepared by:
Cape Cod Conservation District


Hydraulic Modeling and Culvert Size Analysis,
West Falmouth Harbor, West Falmouth, MA
Prepared by:
Woods Hole Group

---

Chapoquoit Beach Restoration - Feasibility Study
From the June 28th public meeting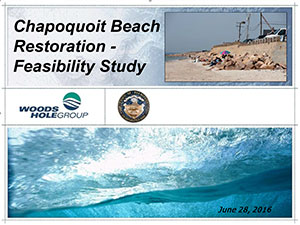 Click to view the presentation PDF from June 28


From the June 1st public meeting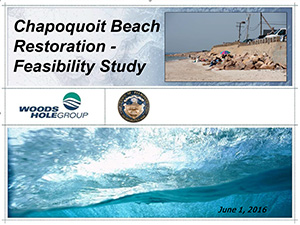 Click to view the presentation PDF from June 1


The West Falmouth Library's capital campaign is making a final push to wrap up its $2.9 million fundraising goal. With just $115,000 to go, the campaign committee is asking everyone in the community to consider contributing to help raise this final amount.

Launched in late 2013, the campaign has raised more than $2.7 million to support a restored, well appointed, accessible gathering place that provides the infrastructure to meet the physical, intellectual, and social needs of our community. "Our campaign goal was ambitious, but our vision was as well—to improve our facilities so we can continue to provide the best possible services and programs for future generations in our community," said Carlyn Ellms, former Board President. "I've been so moved by the hard work of our volunteer campaign committee and the generous support we've received from our community."

"It is exciting to see that our target is within reach," Ellms said. "Our donors' enthusiasm, and their faith in our stewardship of their gifts, has supported us throughout the entire campaign. We are so close now—I hope community members who have not given will be inspired to help us wrap up our funding in June."

Every donation, no matter what size, is greatly appreciated. Please consider a gift or two-year pledge.

The deadline to be included on the donor wall ($1,000+ gift payable over two years) has been extended to May 28, 2018.

To donate, please leave your donation at the Library or donate online at www.westfalmouthlibrary.org.

For information please contact the former Library Board President, Carlyn Ellms at 508.548.4709.