---
Membership Survey
Please take a moment to fill out our Membership Survey, and either mail or email it to the WFVA (instructions provided with the survery). Thank you!


Click here to fill out the brief survey.

---
Falmouth Bikeways Committee Survey
The Falmouth Bikeways Committee is seeking your input; please fill out this survey. It will give the committee a better understanding of bicycle rider needs in Falmouth. The survey will take five to six minutes. Your bicycling needs will be incorporated into bicycling planning. Please only complete this survey one time. The committee would like the widest range of citizens to participate in this survey.

Take the Survey!


---
Buzzards Bay needs your help today.

The state budget has left out critical funding for protecting clean water in your community. This funding supports water quality monitoring across southeastern Massachusetts including the Coalition's Baywatchers program.

Your voice can make a difference.

Tell Senate President Rosenberg and your senator to support budget amendment 226 to restore water quality monitoring funding for Cape Cod and Buzzards Bay.

Contact Senator Rosenberg now by calling (617) 722-1500 and emailing stan.rosenberg@masenate.gov.

Contact our Senator, Vinnie deMacedo, by calling 508-747-6500 and emailing vinny.deMacedo@masenate.gov.

Read the Buzzards Bay Coalition article about the West Falmouth demonstration project reducing nitrogen pollution from 20 septic systems by 78%.

For 23 years, the Baywatchers program has monitored the health of your local waterways. And that research has led to action. On Cape Cod, a major clean water planning process is almost complete and the U.S. Environmental Protection Agency just launched a program to reduce nitrogen pollution.

The Baywatchers program is more important than ever. Tell the Senate to support budget amendment 226 to protect clean water in your community today.

Cape Cod Times reports the Coalition finds 'pause' in Buzzards Bay nitrogen pollution

Latest State of Buzzards Bay score reflects encouraging pause in decline of local waters


The Guardian Award was given to the West Falmouth Boat Club from the Coalition for Buzzards Bay. A beautifully carved scallop shell award created by New Bedford artist John Magnan from pine driftwood collected on Cuttyhunk sits on the mantel in the WF Library.

The Guardian Award is the "highest honor from the Coalition and is given for outstanding service in the clean-up, restoration, or protection of Buzzards Bay." It honors "the unsung hero or heroine who deserves public recognition, not only for what they have achieved, but also to inspire others to make a difference."

Please stop by the West Falmouth Library to read the complete award information on the bottom of the shell. John Magnan's studio is located in the Waterfront Historic District of New Bedford.

---
Falmouth Healthy Lawns
What you need to know about Falmouth's Nitrogen Control Bylaw for Fertilizer:

Falmouth adopted this Bylaw to reduce the nitrogen pollution going into our estuaries. The Bylaw applies to nitrogen used to fertilize grass only. The Bylaw does not apply to fertilizer used on your flower and vegetable garden, greenhouse, houseplants, farm, or orchard. The Bylaw also does not apply to the establishment or repair of turf (after substantial damage) in its first growing season.

Prohibitions:
• Don't fertilize any part of your lawn between October 16th and April 14th, or directly before or during a heavy rain event. Don't spread fertilizer on paved surfaces and clean it up if you do.

• Don't fertilize any lawn located within 100 feet of wetlands - specifically the Resource Areas as defined in Falmouth's Wetlands Regulations, FWR 10.02 (1)(a - d).

• The Bylaw recommends that if you fertilize lawns not covered by the 100' prohibition, fertilize sparingly! The Bylaw encourages use of materials such as yard waste, compost or other similar materials that are primarily organic in nature and that are not considered "fertilizer" to improve the physical condition of your soil.

Read more in the Healthy Lawns PDF.


---
West Falmouth beach protected forever with conservation restriction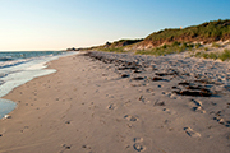 The generosity of the Shearer family is shown through a remarkable gift of a conservation restriction co-held by the Buzzards Bay Coalition and The 300 Committee Land Trust.
Near Chapoquoit Beach in West Falmouth lies a special stretch of beach and coastal habitat. Tall dunes rise up over the shore, protecting a community of plants and shrubs sandwiched between West Falmouth Harbor and Buzzards Bay.
View photos of this unique coastal habitat that is now protected forever.


---
Falmouth Receives State Funding to Replenish Chapoquoit Beach
The Enterprise by Carrie L. Gentile
Falmouth has been awarded $120,000 from the state to replenish Chapoquoit Beach and adjacent dunes with sand dredged from the Cape Cod Canal.
Read more >


---
West Falmouth Dock Rebuild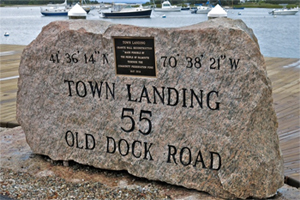 This West Falmouth PINK GRANITE boulder (sourced locally)
is a fitting cap stone for the project.
---
West Falmouth Harbor Eelgrass Study
The Falmouth Enterprise
By Brittany Feldott
A recent study shows that eelgrass in parts of West Falmouth Harbor is growing relatively healthily, but Philip Colarusso of the US Environmental Protection Agency said last week that it could take between six and 17 years before eelgrass beds fully recover.
Read more >
---
Retreat for ALS Patients, Families, and Caregivers Planned
The Falmouth Enterprise
By Andrea Carter
Construction of the Compassionate Care ALS Education and Retreat Center in West Falmouth, formerly Beach Rose Inn, began in November.
Read more >