---
WFVA Annual Meeting
Date: Thursday, August 18
Tine: Meeting starts at 7:00 p.m., but come at 6:30 p.m. for refreshments & social time
Location: West Falmouth Library

Falmouth Health Agent Scott McGann will give a brief summary of water testing procedures at local beaches.
WFVA Board member Todd Taylor will provide an update of fire station staffing.


---
Friends of Sippewissett Marsh and Beaches and the WFVA present:

Summer Speaker Series on Coastal Conservation
Date: Tuesday, August 16
Time: 7-9 p.m.
Location: West Falmouth Library

Guest speaker: Dr. Katie Castagno

Dr. Castagno, a postdoctoral research scientist at the Center for Coastal Studies in Provincetown will discuss Sippewissett Marsh as an ecosystem and the effects of dynamic ocean processes. Dr. Castagno received her PhD from MIT/WHOI Joint Program in Oceanography, where whe studied the impacts of storms on salt marshes in Southern New England.

Light refreshments provided.

Email cclifford@comcast.net or msmarthama@comcast.net with questions.

View poster >

---
Water Stations in Falmouth
---
Recent Litter Clean-Up Efforts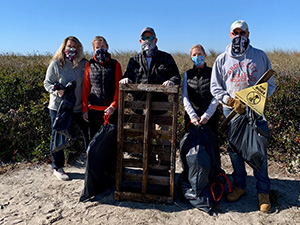 Village Litter Clean-Up on October 31.
WFVA Members: Taylor, Gedney, Sellers families of West Falmouth cleaning up trash and debris from Black Beach
• WFVA held a Village Litter Clean-Up on October 31, with free Ice Cream provided by Eulinda's.
• West Falmouth Residents also supported Litter Free Falmouth's 1st Fall Town-wide Litter Cleanup on Sunday, December 6.

Litter was collected from roadsides, beaches and conservation lands in West Falmouth and throughout the town. Over 175 members of the community participated. Some obtained free litter grabbing sticks and T-shirts from the Keep Massachusetts Beautiful website. Others purchased grabbers from local hardware stores and online.
• "Litter Free Falmouth" Plans Additional Clean-Ups

Litter Free Falmouth hosted a community-wide discussion (via Zoom) of the path forward to achieve a litter free Falmouth on Thursday, January 21.
Read the article in the Falmouth Enterprise >
• Falmouth Adopt-A-Highway group recently initiated stewardship of Route 28

(between Thomas Landers Road and Route 151) and is seeking new members who want to help. Anyone wishing to join the highway adoption team can email Alan Robinson at amrobinson101@gmail.com


---
West Falmouth Fire Station Closure Announced

In a public meeting on October 17, 2019, residents gathered at West Falmouth Library to hear the results of a Town-sponsored study on the proposed location for a proposed Combined North-West Fire Station.

Attendees were surprised to learn that the West Falmouth Fire Station would be closed permanently on July 1, 2020.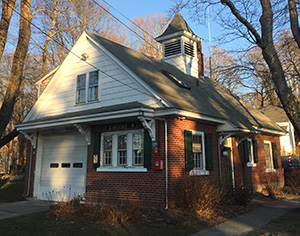 Community Action
Saving the W.F. Fire Station and Ensuring Rapid Emergency Response Times in West Falmouth ...and ALL of Falmouth.

"Citizens for Rapid Response" (CR2) A small group of West Falmouth residents including members of WFVA Board, former Fire-Fighter & EMTs, and Town Meeting & Town Board members are working on a plan to prevent the impending closure of West Falmouth Fire Station until such time that a new Fire Station serving the area is built.

Learn more >


---
Falmouth Shellfish Propagation Slides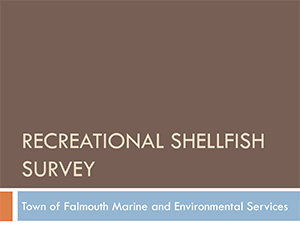 View the Recreational Shellfishing Survey Slides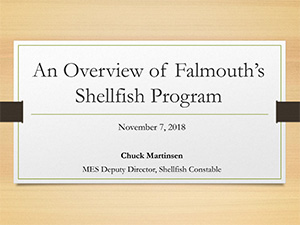 View the Falmouth Shellfish Overview Slides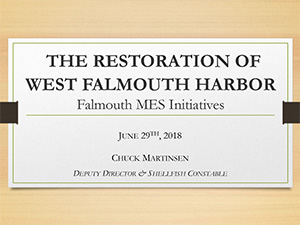 View the Restoration of West Falmouth Harbor Slides


---
'Restoration Of West Falmouth Harbor' Event Leaves Residents With Hope, Challenges

By Claudia Geib, The Falmouth Enterprise

"...In the mid-1990s, scientists began seeing nitrogen levels spike in waters around West Falmouth—and with it, increased algae growth, along with sharply declining shellfish health, eelgrass coverage, and water quality. To this day, groundwater sampled around West Falmouth Harbor still has very high nitrogen levels."
Read the full article >


---
BAY HEALTH, West Falmouth Harbor

See how healthy your water is by visiting Buzzards Bay Coalition's website.
Read more >
---
Read the status report about nitrogen-reducing
in the West Falmouth Harbor.
---
West Falmouth Harbor Restoration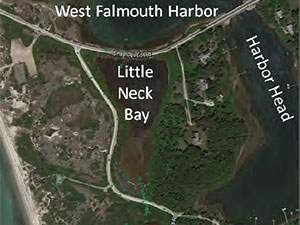 West Falmouth Harbor Restoration Feasibility Study
Prepared by:
Cape Cod Conservation District

Hydraulic Modeling and Culvert Size Analysis,
West Falmouth Harbor, West Falmouth, MA
Prepared by:
Woods Hole Group

---
Chapoquoit Beach Restoration - Feasibility Study
From the June 28th public meeting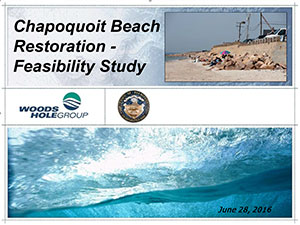 Click to view the presentation PDF from June 28


From the June 1st public meeting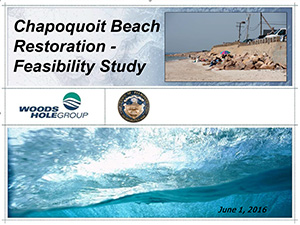 Click to view the presentation PDF from June 1

---
> Please read the details about requesting to post
information on the WFVA website