---

West Falmouth Village Association
2021 ANNUAL MEETING
Meeting Date: Wednesday, August 18, 2021
6:00 p.m: Meet Your Neighbors
6:30 p.m: Meeting Begins
Location: West Falmouth Library, 575 West Falmouth Hwy.
Note: We ask that all attendees wear masks, including those who are vaccinated.

Meeting Agenda:
Brief Updates on current topics including Fire and Emergency Services, Litter Clean-up, and Road and Bike Path Safety- by WFVA Board members.

Guest Speakers:
• Jason Cullinane representing FalmouthNet, a local non-profit organization working to create a community-based fiber optic network in Falmouth.
• Gilda Brancato representing Friends of Sippewissett Marsh and Beaches, an organization of concerned neighbors of the Great Sippewissett Marsh whose mission is to help protect and sustain the marsh and beach ecosystem.

Please Join WFVA! Download membership form or fill one out at the meeting.
---
Annual Falmouth Spring Clean-Up
The Annual Falmouth Spring Clean-Up will take place Saturday, April 17 through Sunday, April 25, 2021.

WFVA supports this annual event, and we understand that our members may not all feel comfortable participating this spring due to the pandemic. Your safety and health are most important!! If you choose to participate, please do it safely. Remove litter from the same areas you have cleaned in the past, or contact village leaders Sue and Milt Williamson willmilt@comcast.net or Mary Ryther at info@westfalmouthvillage.org if you'd like us to suggest an area to pick-up, or if you have other questions.

Any litter collected can be added to your household trash. Recycle any items possible.
TEAM — TOGETHER EVERYONE ACHIEVES MORE

---
Virtual Precinct Meeting A Success In Falmouth
By Brad Cole, Falmouth Enterprise

Approximately 100 people on Thursday last week, January 7, attended Falmouth's first precinct meeting since November 2019. Town Meeting members and Town Moderator David T. Vieira ironed out procedural issues on Zoom before taking up the warrant, of which articles calling for a new fire truck and siting the Carousel of Light next to Shivericks Pond drew the most discussion. Before the meeting got underway Mr. Vieira conducted test votes, including a quorum count, to confirm all was working properly.

Read full article >
---
Recent Litter Clean-Up Efforts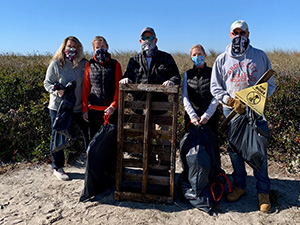 Village Litter Clean-Up on October 31.
WFVA Members: Taylor, Gedney, Sellers families of West Falmouth cleaning up trash and debris from Black Beach
• WFVA held a Village Litter Clean-Up on October 31, with free Ice Cream provided by Eulinda's.
• West Falmouth Residents also supported Litter Free Falmouth's 1st Fall Town-wide Litter Cleanup on Sunday, December 6.

Litter was collected from roadsides, beaches and conservation lands in West Falmouth and throughout the town. Over 175 members of the community participated. Some obtained free litter grabbing sticks and T-shirts from the Keep Massachusetts Beautiful website. Others purchased grabbers from local hardware stores and online.
• "Litter Free Falmouth" Plans Additional Clean-Ups

Litter Free Falmouth hosted a community-wide discussion (via Zoom) of the path forward to achieve a litter free Falmouth on Thursday, January 21.
Read the article in the Falmouth Enterprise >
• Falmouth Adopt-A-Highway group recently initiated stewardship of Route 28

(between Thomas Landers Road and Route 151) and is seeking new members who want to help. Anyone wishing to join the highway adoption team can email Alan Robinson at amrobinson101@gmail.com
---
West Falmouth Fire Station Closure Announced

In a public meeting on October 17, 2019, residents gathered at West Falmouth Library to hear the results of a Town-sponsored study on the proposed location for a proposed Combined North-West Fire Station.

Attendees were surprised to learn that the West Falmouth Fire Station would be closed permanently on July 1, 2020.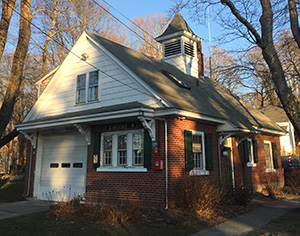 Community Action
Saving the W.F. Fire Station and Ensuring Rapid Emergency Response Times in West Falmouth ...and ALL of Falmouth.

"Citizens for Rapid Response" (CR2) A small group of West Falmouth residents including members of WFVA Board, former Fire-Fighter & EMTs, and Town Meeting & Town Board members are working on a plan to prevent the impending closure of West Falmouth Fire Station until such time that a new Fire Station serving the area is built.

Learn more >
---
Falmouth Shellfish Propagation Slides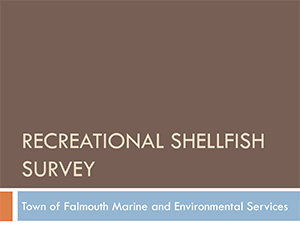 View the Recreational Shellfishing Survey Slides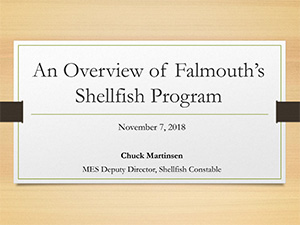 View the Falmouth Shellfish Overview Slides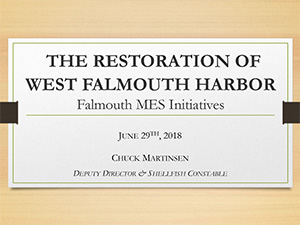 View the Restoration of West Falmouth Harbor Slides


---
'Restoration Of West Falmouth Harbor' Event Leaves Residents With Hope, Challenges

By Claudia Geib, The Falmouth Enterprise

"...In the mid-1990s, scientists began seeing nitrogen levels spike in waters around West Falmouth—and with it, increased algae growth, along with sharply declining shellfish health, eelgrass coverage, and water quality. To this day, groundwater sampled around West Falmouth Harbor still has very high nitrogen levels."
Read the full article >


---
BAY HEALTH, West Falmouth Harbor

See how healthy your water is by visiting Buzzards Bay Coalition's website.
Read more >
---
Read the status report about nitrogen-reducing
in the West Falmouth Harbor.
---
West Falmouth Harbor Restoration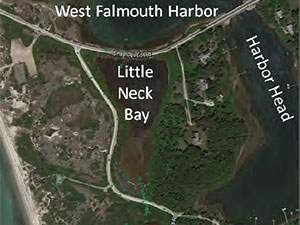 West Falmouth Harbor Restoration Feasibility Study
Prepared by:
Cape Cod Conservation District

Hydraulic Modeling and Culvert Size Analysis,
West Falmouth Harbor, West Falmouth, MA
Prepared by:
Woods Hole Group

---
> Please read the details about requesting to post
information on the WFVA website