2015 West Falmouth Village Association Annual Meeting

West Falmouth Library's Community Room was filled to capacity for Wednesday night's annual meeting. Milt Williamson, Board member of West Falmouth Village Association, presented the annual "Villager Award" to Nancy Hayward, who was cited for her "significant contributions" on behalf of the Village and Townwide for over 40 years. Peter Partridge, also a Board Member, reported that thanks to funding from the Community Preservation Committee and Town Meeting, reconstruction of the 1849 West Falmouth dock would commence this fall, with completion estimated by next spring. It had been the West Falmouth Boat Club that first brought the serious deterioration of the dock to the attention of Town officials. Mr. Partridge thanked Town Engineer Peter McConarty for working very cooperatively with the West Falmouth Village Association to help make this project happen.


The main presentation of the evening was by Mark Rasmussen, President of Buzzards Bay Coalition, and Korrin Petersen, Senior Attorney for the Coalition. Mr. Rasmussen gave an overview of how nitrogen deteriorates the water quality in estuaries, citing Falmouth's wastewater treatment facility as the principal source of nitrogen in West Falmouth Harbor, followed by discharge from local septic systems, particularly from waterfront systems. While improvements are happening with regard to the Town wastewater treatment facility, until now there has been little progress in reducing nitrogen from septic systems. One hundred percent of homes in West Falmouth have septic systems and Capewide eight-five percent of homes depend on septic systems versus town sewer systems.
Korrin Petersen described the importance of a $250,000 grant awarded to the Buzzards Bay Coalition for a demonstration project focused on West Falmouth Harbor. The grant presents an opportunity for twenty households close to the water to receive a $10,000 subsidy if they replace their cesspool with a nitrogen-reducing waste system or amend their Title V system to become more efficient in reducing nitrogen discharge. There are various solutions available to homeowners who wish to participate in the program. Ten West Falmouth households have expressed interest to date, so the goal is to close on the remaining number as soon as possible in order to take advantage of the grant money before the grant period closes.
Mr. Rasmussen stressed the importance of this demonstration project as the spearhead for acquiring further funds to expand the implementation of nitrogen-reducing systems in Falmouth and then in other towns on Cape Cod. He stressed that by improving the water quality of Town estuaries, residents are also protecting real estate values of the Town.
Julian Suso, Town Manager, attended the presentation and said he "applauds the environmental ethic of Buzzards Bay Coalition." He added that Falmouth has an appreciable challenge to grapple with because the Town "has more coastline than any other municipality in Massachusetts.

Villager Award history:
2010 Milt & Sue Williamson
2011 Art Hawkes & Maurey Harlow-Hawkes
2012 John F. Austin Jr.
2013 Peter Sellers and Paul Gedney
2014 John Ross
2015 Nancy Hayward




Select a newsletter below to download
it in PDF file format.
WFVA Projects

Read more about the projects sponsored by the West Falmouth Village Association.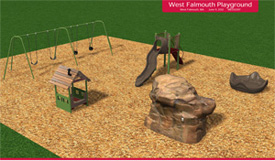 For local emergencies
Dial 911 or 508-548-2323 (This # goes directly to Falmouth Fire dispatch)
View Safety Tips from the Falmouth Police Department >