---
Annual Christmas Tree Lighting

Saturday, December 1, 2018 - 5 p.m.
Across from the West Falmouth Market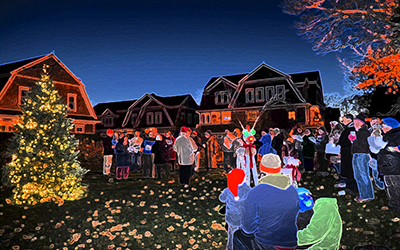 Co-hosted by the West Falmouth Village Association and the West Falmouth Market.

The market's summer musicians, The Silent Trees, will lead a sing-along (song sheets provided).

All are invited for free hot chocolate and cookies provided by the West Falmouth Market.
---
WFVA Fall Meeting

Wednesday, November 7th at 7 p.m.
West Falmouth Library
Light refreshments will be served and all are welcome to attend!

Guest speaker will be Chuck Martinsen, Deputy Director of Falmouth Marine and Environmental Services. Chuck will talk about the town's shellfish propagation programs including those in the waters of West Falmouth Harbor.

Additional Topics for discussion as time allows: 
West Falmouth Village Tree Lighting, Village Game Night, Progress on Traffic and Pedestrian Safety, Your General Questions and Concerns

---
Historic WF Livestock Pound

By Amanda Haines, The Falmouth Enterprise

"Hidden behind brambles and trees at 825 West Falmouth Highway are some rocks that are steeped in colonial history. And, quite accidentally, when an Eversource crew dislodged a few of the stones during routine maintenance, they uncovered a little-known historic gem. The rocks are what remain of the West Falmouth Pound, a livestock shelter that is mentioned in the National Register of Historic Places (as part of the West Falmouth historical district) and protected by a preservation restriction."
Read the article >

---
'Restoration Of West Falmouth Harbor' Event Leaves Residents With Hope, Challenges

By Claudia Geib, The Falmouth Enterprise

"...In the mid-1990s, scientists began seeing nitrogen levels spike in waters around West Falmouth—and with it, increased algae growth, along with sharply declining shellfish health, eelgrass coverage, and water quality. To this day, groundwater sampled around West Falmouth Harbor still has very high nitrogen levels."
Read the full article >


---
2018 WEST FALMOUTH ANNUAL
SPRING CLEAN UP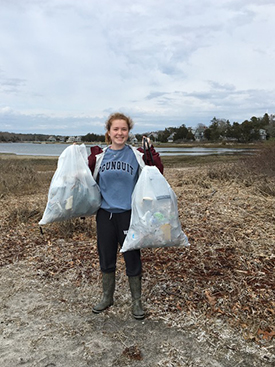 To everyone who participated in the 2018 litter clean up in West Falmouth - THANK YOU. We were fortunate to have 6 new volunteers this year which increased our total number to over 50. Miles of roadsides were cleared of many types of litter. The most prevalent item picked up this season was NIPS - hundreds of them - thrown out of cars.

Here's some of the roadsides and areas where dedicated volunteers removed litter within the last two weeks - an amazing accomplishment.

1. West Falmouth Hwy. starting at Thomas Landers Rd. to Palmer Ave.
2. Nashawena Rd./Quaker Rd. from Old Dock Rd. to Old Silver Beach
3. Chapoquoit Rd. and island
4. Palmer Ave. from West Falmouth Hwy. to Sippewissett Rd.
5. Thomas Landers Rd./Route 28 intersection (2 exit ramps and 2 entrance ramps)
6. Brick Kiln Rd. from 28A to the bridges (Route 28 intersection)
7. Old Dock Rd.
8. Brick Kiln Rd./Gifford St. intersection
9. Blacksmith Shop Rd. and Swift Park
10. Salt Pond Bird Sanctuary land bordering Chapoquoit Rd.
11. West Falmouth Harbor shoreline at low tide
12. Little Island beach

Again, we are so grateful for everyone's willingness to be part of our West Falmouth.

TEAM. TOGETHER EVERYONE ACHIEVES MORE.
Milt and Sue Williamson Coordinators


---
BAY HEALTH, West Falmouth Harbor

See how healthy your water is by visiting Buzzards Bay Coalition's website.
Read more >
---
Read the status report about nitrogen-reducing
in the West Falmouth Harbor.
---
West Falmouth Harbor Restoration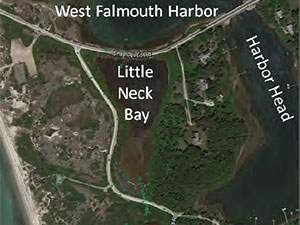 West Falmouth Harbor Restoration Feasibility Study
Prepared by:
Cape Cod Conservation District


Hydraulic Modeling and Culvert Size Analysis,
West Falmouth Harbor, West Falmouth, MA
Prepared by:
Woods Hole Group

---

Chapoquoit Beach Restoration - Feasibility Study
From the June 28th public meeting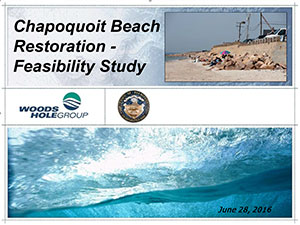 Click to view the presentation PDF from June 28


From the June 1st public meeting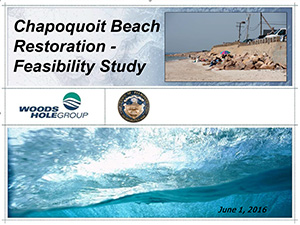 Click to view the presentation PDF from June 1