---
Please join us on the library lawn for a festive evening as we light our community tree donated by the Hughes family.

Friday, December 1, 2023
6-8 pm

The Falmouth High School Chorus will lead us in caroling. The West Falmouth Market will provide cookies and cocoa. Santa is planning to stop by! Come inside out of the cold for a wine & cheese social with holiday favorites on the piano by Mimi Schlichter.

Hosted by the West Falmouth Village Association and the West Falmouth Library.


---
Letter from the Black Beach Harbor Head Civic Association (BBHHCA)

The West Falmouth Village Association Board recently received the attached letter from a member of the Black Beach Harbor Head Civic Association (BBHHCA), who requested that we communicate it to our membership. We are sharing the letter in order to facilitate communication among our neighbors.
View Letter (PDF)
---
Massachusetts Department of Transportation's Safety Audit
West Falmouth Highway (Route 28A) between Chapoquoit Road and Old Dock Road

The report below resulted from the recent safety audit and details short term and long term recommendations for improvements along a small stretch of route 28A from Old Dock road to Chapoquoit Road.


View Road Safety Report (PDF)
We are advocating for a more comprehensive audit including the entire stretch of 28A through the Village. For your information, below is our request for the Select Board to support this effort and our letter to the Massachusetts Department of Transportation.
View cover letter to the Select Board (PDF)
View letter to the MA DOT (PDF)
---
Public Forum about Wastewater
and Watershed Management
A public forum was held on March 2, 2023 at the West Falmouth Library about wastewater and watershed management in the Town of Falmouth, including the environmental impact and benefits of the current plan.
View the Powerpoint presentations in PDF format: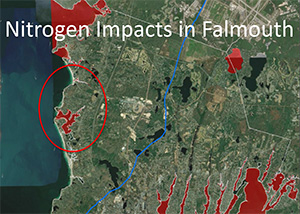 View presentation by Korrin Petersen, VP Clean Water Advocacy
Buzzards Bay Coalition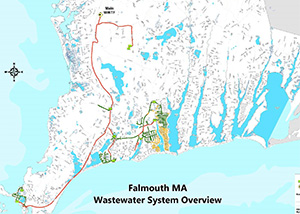 View presentation by Amy Lowell, Wastewater Superintendent
Town of Falmouth


---
Recent Litter Clean-Up Efforts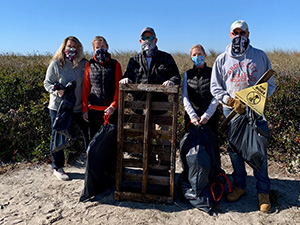 Previous Village Litter Clean-Up
WFVA Members: Taylor, Gedney, Sellers families of West Falmouth cleaning up trash and debris from Black Beach
WFVA regularly partners with Litter Free Falmouth, a volunteer initiative dedicated to keeping our roadsides clean.

Three members of the village association participated in Litter Free Falmouth's Fall Clean-up of Thomas B Landers Road on Sunday, December 11th. The group parked at the Waste Management Facility and picked up litter working its way to the Route 28 on-ramps and back (2.5 miles total). The group collected 16 large yellow bags of trash in addition to a couple of campaign signs, an 8' long heavyweight steel pipe, and two five gallon buckets. In addition to the typical nip bottles and fast food wrappers commonly found on most roadsides, this road has especially large amounts of construction-related materials blown out of uncovered truck beds.

Litter Free Falmouth is working with local authorities and MassDOT to raise awareness and put an end to this type of unintentional littering.


---
Water Stations in Falmouth
---
Falmouth Shellfish Propagation Slides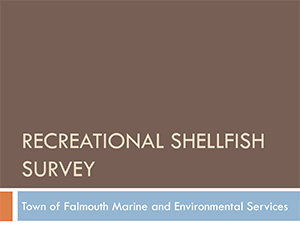 View the Recreational Shellfishing Survey Slides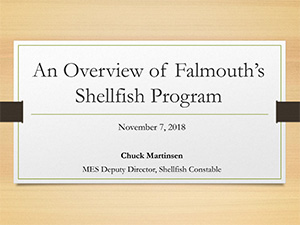 View the Falmouth Shellfish Overview Slides


---
West Falmouth beach protected forever with conservation restriction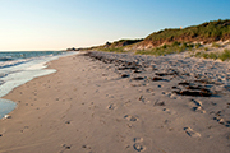 The generosity of the Shearer family is shown through a remarkable gift of a conservation restriction co-held by the Buzzards Bay Coalition and The 300 Committee Land Trust.
Near Chapoquoit Beach in West Falmouth lies a special stretch of beach and coastal habitat. Tall dunes rise up over the shore, protecting a community of plants and shrubs sandwiched between West Falmouth Harbor and Buzzards Bay.
View photos of this unique coastal habitat that is now protected forever.

---
> Please read the details about requesting to post
information on the WFVA website