---
Stamp Out Hunger Food Drive
Saturday, May 13, 2023

Please leave the items listed for your postal carriers on Saturday morning. (All donations will then be delivered to the Falmouth Service Center.)
• Apple Juice (64 oz.)
• Mustard or Ketchup
• Diced Tomatoes
• Canned Chicken
• Canned Peaches
• Diapers (size 6)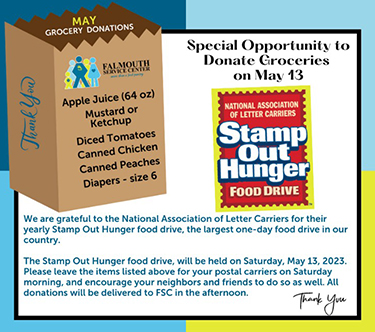 ---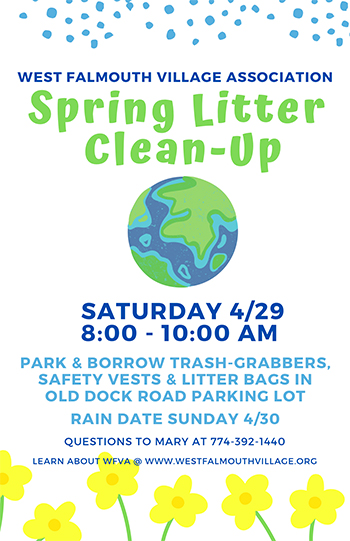 ---
Public Forum about Wastewater
and Watershed Management
A public forum was held on March 2, 2023 at the West Falmouth Library about wastewater and watershed management in the Town of Falmouth, including the environmental impact and benefits of the current plan.
View the Powerpoint presentations in PDF format: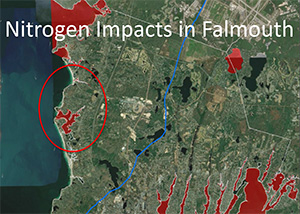 View presentation by Korrin Petersen, VP Clean Water Advocacy
Buzzards Bay Coalition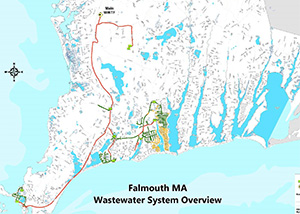 View presentation by Amy Lowell, Wastewater Superintendent
Town of Falmouth


---
West Falmouth Traffic & Pedestrian Safety Survey
The purpose of this survey is to solicit the opinion and experiences of West Falmouth residents, business owners and other interested parties regarding speed and safety along route 28A. Please take a few moments to share your thoughts with us so that we, The West Falmouth Village Association, can properly advocate for you!

Legislation has been passed that permits towns to petition the Massachusetts Department of Transportation (DOT) to reduce speed limits on State Roads running through their town. We are currently engaged in related discussions with the Falmouth Traffic Advisory Committee, The Falmouth Bicycle and Pedestrian Committee, the Falmouth Select Board, MADOT and our local representatives in the State Senate and House.

Please let us know your thoughts by 2/20/23. We will share the results in a follow up message as we continue to keep you informed of our progress.

Take the Survey
---
Recent Litter Clean-Up Efforts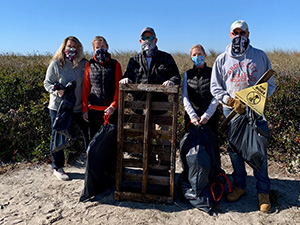 Previous Village Litter Clean-Up
WFVA Members: Taylor, Gedney, Sellers families of West Falmouth cleaning up trash and debris from Black Beach
WFVA regularly partners with Litter Free Falmouth, a volunteer initiative dedicated to keeping our roadsides clean.

Three members of the village association participated in Litter Free Falmouth's Fall Clean-up of Thomas B Landers Road on Sunday, December 11th. The group parked at the Waste Management Facility and picked up litter working its way to the Route 28 on-ramps and back (2.5 miles total). The group collected 16 large yellow bags of trash in addition to a couple of campaign signs, an 8' long heavyweight steel pipe, and two five gallon buckets. In addition to the typical nip bottles and fast food wrappers commonly found on most roadsides, this road has especially large amounts of construction-related materials blown out of uncovered truck beds.

Litter Free Falmouth is working with local authorities and MassDOT to raise awareness and put an end to this type of unintentional littering.


---
Water Stations in Falmouth
---
Falmouth Shellfish Propagation Slides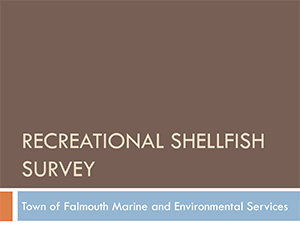 View the Recreational Shellfishing Survey Slides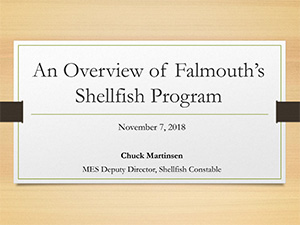 View the Falmouth Shellfish Overview Slides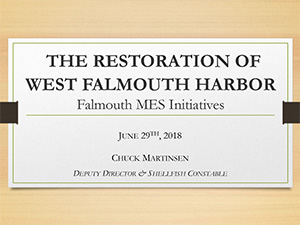 View the Restoration of West Falmouth Harbor Slides


---
'Restoration Of West Falmouth Harbor' Event Leaves Residents With Hope, Challenges

By Claudia Geib, The Falmouth Enterprise

"...In the mid-1990s, scientists began seeing nitrogen levels spike in waters around West Falmouth—and with it, increased algae growth, along with sharply declining shellfish health, eelgrass coverage, and water quality. To this day, groundwater sampled around West Falmouth Harbor still has very high nitrogen levels."
Read the full article >


---
BAY HEALTH, West Falmouth Harbor

See how healthy your water is by visiting Buzzards Bay Coalition's website.
Read more >
---
Read the status report about nitrogen-reducing
in the West Falmouth Harbor.
---
West Falmouth Harbor Restoration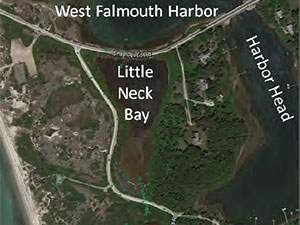 West Falmouth Harbor Restoration Feasibility Study
Prepared by:
Cape Cod Conservation District

Hydraulic Modeling and Culvert Size Analysis,
West Falmouth Harbor, West Falmouth, MA
Prepared by:
Woods Hole Group

---
Chapoquoit Beach Restoration - Feasibility Study
From the June 28th public meeting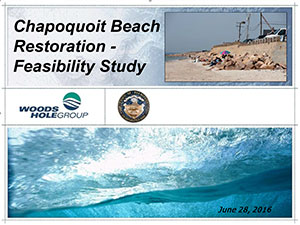 Click to view the presentation PDF from June 28


From the June 1st public meeting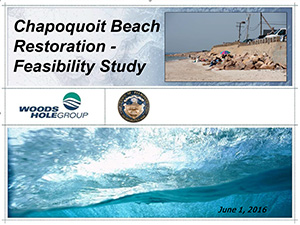 Click to view the presentation PDF from June 1

---
> Please read the details about requesting to post
information on the WFVA website